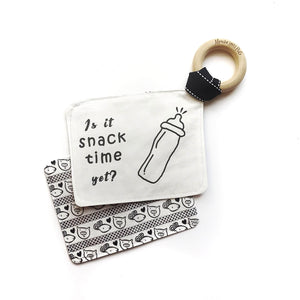 Baby Crinkle Toys - Snack Time Bottle Feeding
Regular price
$18.00
$0.00
Unit price
per
Sensory Toys for Infants - Is it Snack Time Yet?
For the bottle feeding parent and their constantly hungry baby.

The crinkle sound is amazing for babies. They just LOVE it. And the black and white printing on the toy is perfect for their developing eyesight.

The wood ring is removable from the organic cotton square so they can be washed separately. (yay washable!)
When do infants start to use sensory toys?

As soon as they can grasp a finger, babies can start to use a sensory toy.
Super young infants in the first 3 months really don't need much sensory input apart from simply experiencing the world. But as baby starts to become aware of their hands and feet, introducing a biofeedback toy (fancy way of saying a toy that makes sound when touched) can help reinforce those developing neural pathways.
You and baby will both look so smart.

Dimensions:

Organic cotton fabric square is 6.5" x 5"

Organic wooden toy ring measures 2.5" in diameter


Our rings are sourced and made in the USA and our baby crinkles are sewn here too. Fully compliant with all CPSC Safety Regulations (because we care about making safe toys for your baby).
---