• christmas • gift • handmade • holiday • shop small • shopping
We're so glad you're here! Enter your mobile number to get 10% off of today's purchase. Having trouble? Try reloading the page.  Shop:  ALL   BABY CRINKLE TOYS   PRETEND PLAY SETS - TINYWORLDS   RIBBON WANDS - HAND KITES PS: Need some holiday shopping gift inspiration? Check out our Kids Favorite Gift Guide! Let's stay friends! ❤️ Follow us on Pinterest, Facebook, and Instagram
---
• christmas • gift • gift guides • guide • handmade • holiday • list • shop small • shopping • small shop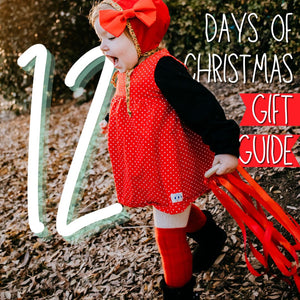 So it's December already and you haven't started your holiday shopping. Don't worry, us too. We can work on this together! December is busy, so we've put together 8 great gift ideas for babies, toddlers, and school aged kids. Plus, so you feel like you've really got Christmas in the bag this year, get 15% off all our Gift Guide picks! Use code GIFTGUIDE22 at checkout. Go ahead, steal our Christmas present ideas. We promise we won't tell Santa.  1. When you have a whole tribe of children to shop for.    Rainbow Colors Hand Kite Play Set Everyone gets...
---
• gift guides • giveaways • shop small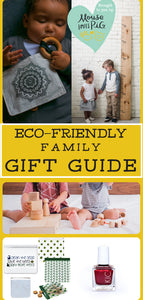 Eco-Friendly Family Gift Guide - Discover gifts for the greenie in your life. Products designed by moms who care, these non-toxic gifts, organic gifts for kids, and eco-friendly gifts for kids are here to help you buy less but better!
---
• 2018 • christmas • gift • guide • handmade • holiday • list • shop small • shopping • small shop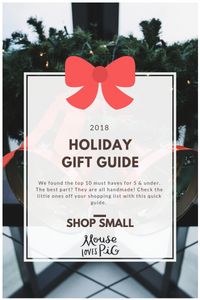 Steal my Christmas gift shopping list! My family loves it when I find unique gifts from talented makers, and I'm sure your family will too. My kids especially love to learn about who made their gifts... taking the time to talk about the maker behind the handmade clothes or toys becomes part of our family gifting experience. If you'd like to start a new tradition of high quality gifts for kids and a connection to the person who made it, check out a few of these mama makers. - Mouse Loves Pig -White Loft -Asher + Olive -Beauty & Her Bow...